To show how prominently Chick-Lit is market displayed, I took these pictures in the
Lougheed Mall Coles Books
. Click on the individual pictures for a larger image.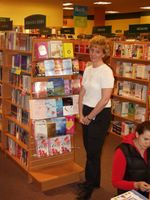 Here is the Lougheed Mall Coles Books' courteous and professional store manager, Ms. Lori Drazdoff, beside a sub-display of various fiction titles marketed to women.
Following are pictures are of several sections of the "Fiction & Literature" shelves that run along the main walls. The books marketed as chick-lit are clear: their covers are in bold pastels frequently with variations on retro-sixties movie-style line-drawings. My assumption is that the marketers are invoking the iconography of Breakfast at Tiffany's.
In addition to the covers, books marketed as chick-lit have titles that strongly declare their genre. Here, Mary Kay Andrews' Hissy Fit typifies the genre's reformative appropriation of idioms hitherto applied in the feminine pejorative.